Alterna Comics Proudly Sold Online at White Dragon Comics!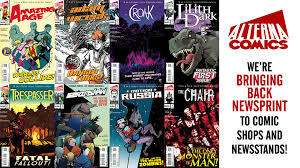 Creator Owned comic books published under "Alterna Comics" are in a nutshell, "Awesome"! This All-New Publish brings a Unique concept to comics, newspaper.

Alterna publishes all comics on recycled newsprint! This allows the company to sell their comic books at much lower price than mainstream media. You can buy these one-of-a-kind comics published by Alterna online at White Dragon Comics.

Alterna Comics is a creator owned comic book publisher. Founded in 2006 by Peter Simeti Alterna offers comic books written different genres, giving readers several wonderful choices. Alterna is home to the New York Times Best-Selling Graphic Books zombie war series, "Fubar" as well as the psychological comic book horror thriller, "The Chair" which has been adapted to film. You can buy Amazing Alterna comic books today, online at White Dragon Comics (while supplies lasts).

White Dragon Comics is proud to be one of the largest carries of Indie Comics! Some of the best stories are spinning out of the Indie-Market! If you want to read something new, check out Alterna Comics! Proudly sold here at White Dragon Comics, Online!

For more exciting comic books like Alterna Comics be sure to check out Aftershock Comics!