Justice League Comic Books - Sold at White Dragon Comics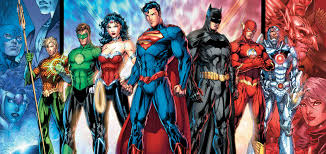 You can buy Justice League comic books online at White Dragon Comics! See the greatest Superheroes of the DC Universe working together in Justice League Comics!

DC Comic's writers deliver the best team-ups in the comic book universe! One of the hottest-selling team-up, teams is The Justice League! At any given time, you will find the best of the best in heroes working side-by-side with Justice League comics. Batman, Superman, Aquaman and Wonder Woman are just a small smattering of the heroes in The Justice League!

The Justice League is a group of the mightiest of DC's comic book heroes. The strongest, the smartest and most courageous superheroes become members of the Justice League. Members of the Justice League also appear in self-titled comics, specials and one-shots that are available for purchase online at White Dragon Comics.

For Justice League comic books there is no better place than White Dragon Comics. We sell the latest Justice League comic books! You can find a wide selection of other comic books that feature the various members of the different Justice Leagues in our Character's category page.

Take advantage of our easy ordering, prompt service and low shipping rates! Buy your action-packed Justice League comic books Now! online at White Dragon Comics.