Image Firsts Offers Comic Books for One Dollar and Shoppers Can Buy Them at White Dragon Comics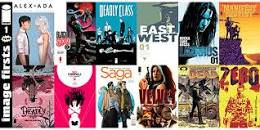 Image Firsts answers the age-old question, "what can you get for a buck", well comic book enthusiasts you can get a brand-new number one comic book! Image offers exciting adventures, fanciful romances, outrageous humor, inter-galactic travel and more in stories for just a dollar! Image Firsts is a line of key issues in comic book titles re-presenting their first issues as an introduction to the publishing company's most acclaimed titles!

Image Firsts comic books are perfect for readers interested in trying out a variety of new series without feeling the effects on their wallet and with so many choices you'll find yourself coming back often. White Dragon Comics is proud to offer the latest and largest selection of Image Firsts comic books to buy from, shoppers will find several different genres, era's and adventures, there is something for every reader, old and new.

Image Comics is a comic book and graphic novels publisher formed in 1992 by some of the best-selling artists in the industry. Image has become one of the largest comics publishers in the United States, they currently have five partners in Image Comics Robert Kirkman, Erik Larsen, Todd McFarlane, Marc Silvestri, and Jim Valentino. The company is also divided into four imprints Todd McFarlane Productions, Top Cow Productions, Shadowline, and Image Central.

Shoppers can choose from almost every genre, sub-genre, and style imaginable with offerings like science fiction, romance, horror, crime fiction, historical fiction, humor, and much more from the finest artists and writers working in the medium today. White Dragon Comics brings shoppers the latest in offerings from Image Firsts, as comics are released, they will be placed for sale, while supplies lasts. Hurry and Order your new Image Firsts comic book at White Dragon Comics, before it's too late!