Vetern Heroes Team-Up in DC Comic Books Sold at White Dragon Comics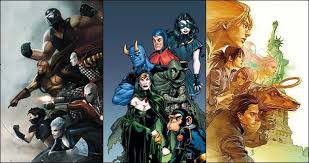 Batgirl, Batman, Robin, Wonder Woman and many more "Veteran" Heroes can be found starring in Team-Up comic books sold at white Dragon Comics! Shoppers will get more bang for their buck in these fantastic comics! White Dragon Comics strives to bring comic book buyers that largest selection of "Veteran Teams" starring together! You can find these one-of-a-kind adventurous stories below.

Comic Book fans love reading about their favorite heroes and when writers bring a couple of heroes together in one comic book, well that's a reader's dream! Shoppers here you will find the best DC Comics has to offer in hero team-ups. These teams are all Veterans of the DC Universe, usually starring in stand-alone stories, but not here! These comics feature only Veteran Heroes Teaming-up for Justice!

When you are looking to purchase comic books, White Dragon Comics online is your go-to shop. We sell only New Comic Books! Comics sold at white Dragon Comics are specifically ordered for website or are extra stock from shelves. Comic Books are stored in protective bags until ordered! If there is damage to a comic book, we let you know before shipping, so you have the option to keep or refuse!

Shoppers do not hesitate to buy that comic book you have been searching for! White Dragon Comics has the lowest prices, best shipping rates and the fastest service! Buy your favorite heroes together in Veteran Teams comic books from DC Comics!