Zombie Comic Books are the Best-Selling Comics among Supernatural Monster Comic Books! Shoppers Can Buy Zombie Comic Books at White Dragon Comics
Zombies have taken over the comic book universe, no one is safe the undead have snacked their way through comic genres and publishers, universally. Zombie Comic Books are the hottest-selling Supernatural Comic Books being published and sold today! Shoppers can find comic books featuring "Zombies" for sale at White Dragon Comics.

The Zombie craze has taken these flesh-eating monsters and distributed them throughout "Pop Culture" fans can find stories about these meat-bags in several different genres, but the best venue for Zombie stories is comic books. Shoppers can find a numerous amount of different comic books centered around Zombie tales, right here! These carnivorous villains will capture your imagination and keep you running back to our website screaming for more Zombie orientated comic books!

Zombies have infected the DC Universe, the Marvel Universe, Image Comics, Archie Comics and so many more. Each horrendous adventure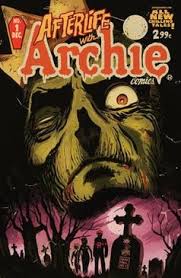 featured in comics contain "unique" stories with different beginnings, endings, plots and genres.

Comic Book readers/shoppers searching for Zombie comic books will find one of the largest and most diverse selection of comic books available for purchase here at White Dragon Comics.

White Dragon Comics offers the lowest shipping rates, great customer service and *Pull & Hold Subscriptions* at no additional charge.