Spider-Gwen, Spider-Ghost is Marvel Comics Best Selling Spider Comic Book, Buy It Here at White Dragon Comics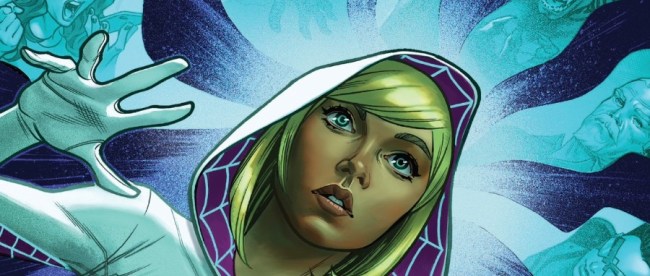 Earth-616 is where Gwen Stacey can conceal her identity as Spider-Gwen, Ghost-Spider and continue her life as Gwen Stacey college student. Marvel Comics and the fine writers of Spider-Gwen, Ghost-Spider bring comic book readers a new story of a young hero trying to serve justice, do the right thing and live a normal life. Fans can purchase many different issues of Gwen Stacey Ghost Spider comic books at White Dragon comics.

After the tragic events on Earth-65 (Gwen's home planet), Gwen Stacey has been outed, by her own hands to her father who was just about to arrest the her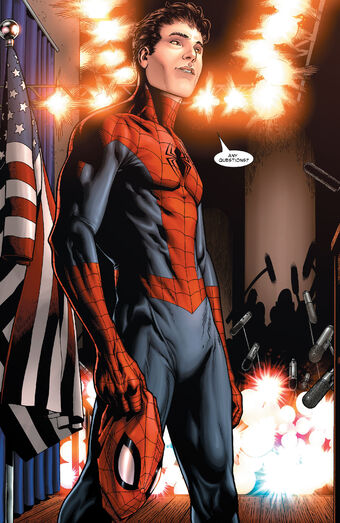 for the death of Peter Parker. After serving her prison sentence Gwen attempts to resume her normal life as a student, daughter and superhero, but because her secret identity has been revealed, her life can never be the same again.

As Gwen's future is unfolding, her symbiote begins to give her terrible headaches, in an attempt to fix the problem Gwen travels to Earth-616, searching for the symbiotes creator Elsa Brock, but she has disappeared from public view and Gwen decides to find her counterpart Eddie Brock aka Venom. Here she runs into Earth-616's Peter Parker who is able to help her, it's during this visit that she realizes her secret identity is still intact in this dimension and decides to use it to her advantage. She starts calling herself "Ghost-Spider" (since she believes "death loves Gwen Stacy") and enrolls in Earth-616's Empire State University to get a college education somewhere where nobody knows her past.

Shoppers can find Gwen Stacey Ghost Spider comic books sold at White Dragon Comics. We encourage you to take your time and look over our extensive collection of New Comic Books sold here, including other great Spider-comics.