Boom's Studios Comic Books Based Off of Big Screen Movies/Sold at White Dragon Comics!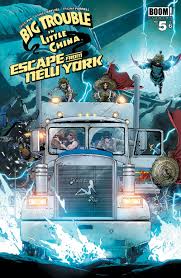 Some of the best comic books sold today are based off "Big Screen Movies" and Boom! Comics is the biggest publisher of comics in this genre. Boom Studios, which publishes really great comic books has taken the industry up a notch with new comic's that are based off Best-Selling Big Screen Movies.

Shoppers can find comic books featuring new and continuing stories from motion picture like Back to The Future, Planet of The Apes and Escape from New York. White Dragon Comics offers these comic books from Boom! Studios and more for sale right here, just below.

Boom's writers have searched high and low for the best of the best in block-buster movies and transformed those iconic movie-characters into comic book personalities! Miss your favorite movie? Wish there were a sequel? Odds are, if it was a popular flick or a highly demanded cult classic… it can be found here as a comic book, for sale!

If you are looking for comic books that following the "Big Screen Movies" field Boom! Studios publishes them, and White Dragon Comics sells them. Right here on one convenient page, making comic book buying an easy process!


*Bookmark this page, and check back every week, so you don't miss out on any of newest comic books.

White Dragon Comics, keeping comics on paper and in your hands. Buy Today! Support local Mom and Pop Comic Shops.