Zenescope's "Wonderland" Comic Books - Sold Online at White Dragon Comics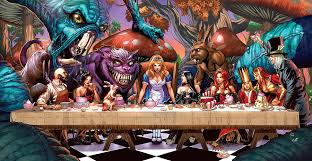 Zenescope Comics brings to life Wonderland and its glorious characters in comic books sold online here! But these characters come with a horrifying and unique twist.

This Wonderland is not for children, this is a strictly grown-up comic! Some will see a land that is terrifying, murderous and vengeful universe, while others will delight in the new direction of these classic legends. Buy your "Wonderland" comic book online at White Dragon Comics. You will not be dissapointed!

If your looking for something on the strange side, maybe a new land with characters that can stop you in dead in your tracks? How about a bewitching Queen full of vengeance with murder on her mind, especially the murder of Alice Liddle and her family! Yes, then these are the must-have comics for you! Order today, copies are limited.
Poor Alice Liddle; her parents are encouraging her to explore the Rabbit Hole! And, it's kinda creepy the way they encourage this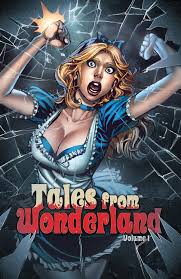 beautiful child to step into the darkness. When she does as asked and steps into the hole; a new world emerges, one that will haunt Alice Liddle for the rest of her life and, by the way the poor dear seems to be on everyone's hit-list.

The Mad-Hatter, The Jabberwocky and The Cheshire Cat, The Black Knight and many more are here as well. And if you thought some of these guys were creepy before, wait till you see them now!

Zenescope's writers have done an exceptional job writing the Wonderland comics and the artists bring to life the strange, horrifying world with each page, encompassing the reader. You will never look at fairytales the same way after reading these must-have comics!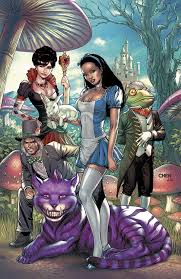 You can find Wonderland comic books for sale online at White Dragon Comics. Don't hesitate any longer… read all of Alice Liddle's adventures now! Before there gone!

White Dragon Comics sells only new comic books… all books are overstock from store shelves that have been put in storage to ensure the books remain in good condition. Buyers can expect low shipping rates, speedy service and the best customer service offered!

Don't hesitate any longer, that comic book you have your eye might be purchased by another customer. Order Today! If you like Zenescope Wonderland comics, then you'll love these comics from the "Myst"!