Antarctic Press Top Publisher of Horror, Science-Fiction, Humor and How-To Comic Books Can Be Purchased at White Dragon Comics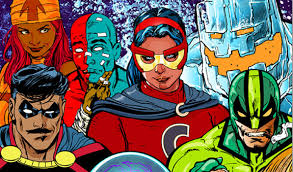 Antarctic Press opened their doors in 1984 with a limited number of comic book titles, but since then the comic book publisher has flourished into a number one seller! With over 1500 titles, Antarctic Press comic books are highly anticipated by fans often leading to sell-out comic books! But, at White Dragon Comics shoppers can choose from abundant inventory of Antarctic Press comic books! You buy Antarctic Press comic books at the Best Prices at White Dragon Comics – just below.

Antarctic Press boasts some of the most respected and longest-running independent series in comics today. Since Antarctic Press's inception, their main goal has been to establish a series of titles that are unique, entertaining. Antarctic Press comic books vary from horror, how-to books, science fiction and humor. Shoppers can find the newest editions of comics along with a host of back issues for sale at white Dragon Comics.

Whether you are a fan looking for horror, comedy or how-to comic books Antarctic Press is sure to have something written just for you. Our selection of top comic books from Antarctic Press is growing all the time, so be sure to check back for the latest additions. If you like Antartic Press, check out comic book publisher American Mythology.

Shoppers, Order Today! Enjoy Fast, Friendly Service with Low Shipping Rates!

*Purchases at White Dragon Comics Keeps the Dream of Small Business Ownership Possible! Thank You for your Support!