Robin is The Coolest Sidekick in The DC Universe! - Buy Comic Books Starring Robin at White Dragon Comics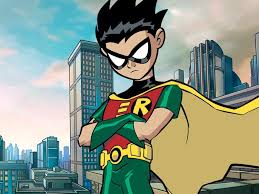 Batman's sidekick, Robin is the most popular hero out of all the sidekicks in the DC Universe. "Robin" has almost as many spin-off comics as Batman! This iconic hero's personality is optimistic, energetic, fun-loving and his youthful exuberance is exhilarating! Comic Books featuring the law-abiding, fun-loving "Robin" are sold online at White Dragon Comics.

Batman's faithful partner Robin began his career in 1940, in Detective Comics # 38 and has continually grown in popularity among comic book readers nationwide. Robin was the brainchild of Bob Kane, Bill Finger, and Jerry Robinson and was conceived with idea of attracting a wider and younger audience. The character was widely received, doubling the sales of Batman comic books and demanding that he receive his own comic!

Bam! Robin stars in his own comic book! Robin's first solo feature came in Star Spangled Comics in 1947. And, over the years the character, Robin has been portrayed by several different interesting people, including Batman's son Damian Wayne. Customers will find a variety of these comics starring Damian Wayne as Robin here at White Dragon Comics.

You can buy comic books featuring the best sidekick ever, Robin at White Dragon Comics Online Comic Book Store! Consumers will find low shipping rates, speedy friendly service and state of the art mailers (to protect your comics).

Find More Exciting Comic Books for sale from the DC Universe at White Dragon Comics right here!