Star Trek Comic Books - Sold at White Dragon Comics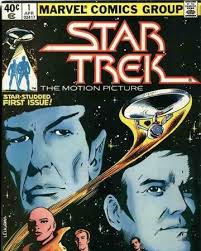 White Dragon Comics has all the Star Trek Comic Books you need! Comic book buying is easy-peasy here at White Dragon Comics. You can will find the largest selection of Star Trek comic books for sale online at White Dragon Comics. Kirk, Spock, Nimoy and all the other iconic characters can be found in new and exciting adventurous comic books, sold at White Dragon Comics. Right Here! Just below!

Star Trek has been published and sold in comic books since 1967. The first comic book publisher to print Star Trek comics was Gold Key and from there the popular tv show would climb the publisher's ladder. Star Trek would be written by several amazing writers in conjunction with contributing artwork from premier artists throughout the comic book universe. Publishers printing Star Trek comic books include Marvel Comics, DC and Malibu Comics and IDW Comics.

Star Trek comic books sold at White Dragon Comics are New, Uncirculated Comics that were over-ordered or purposely ordered to offer online sales to customers in need of Star Trek comic books. Take advantage of our low shipping rates and prompt, friendly service. Order Today! And, Have Fun!

If you like Science Fiction comic books check out our Sci-Fi Section here.