Batman And Family Comic Books with Variant Covers - Sold Online at White Dragon Comics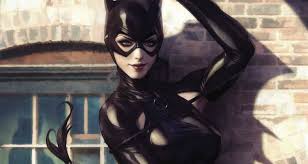 You can buy the Hottest Selling Variant Edition Batman and Family comic books online at White Dragon Comics. The Dark knight, The Joker, Robin, the alluring Catwoman, and more are available for sale, just below.
You can find New Uncirculated editions featuring variant artwork on the front cover. Whether it's Batgirl, Harley Quinn, or Batwoman you will find an edition with artwork dedicated to them! Order Today! Don't Miss Out!
Batgirl shines, Robin out-Bats Batman, and Catwoman is on the prowl in All-New sensational stories! New adventures, ghastly villains, and budding romances are captured in the pages here! Enjoy the astounding stories along with the wondrous artwork!
Enjoy the best selection of "Batman and Bat-Family" comics sold right here on the internet at White Dragon Comics.

Find the Latest Releases at White Dragon ComicsFind the Latest Releases at White Dragon Comics Newest Releases page.