Boom Box Comics Gives"Tweens" Stories That Relate To real Life Situations - Sold at White Dragon Comics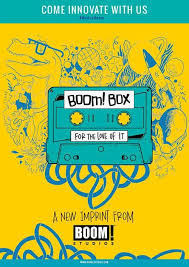 Boom! Box is a new imprint under Boom! Studios designed for teenage readers. It is often hard to find appropriate reading material for teens in today's crazy mixed up world, but Boom! Box has taken away all the hassle ensuring parents that their comic books are Age-Appropriate!

White Dragon Comics currently stocks a large selection of Boom! Box comic books for sale, comics can be found just below.

Today's teenagers are looking for a different kind of reading material, something political, but not overbearing; something touchy-feely, but not sexual; they are also looking for real-life situations, but not to "heavy" that's what Boom!Studios provides with its new line of "Teen" reading material with Boom! Box. Boom! Box comic books are always available for sale at White Dragon Comics, we carry only the Hottest-Selling Comic Books!

Boom! Box's line of comic books are designed to give the "teenage audience" comic books that are suited to "tweeners" looking for real life situations with a light-hearted approach. Since the addition of the Boom! Box imprint sales for "teen" comics have risen drastically.

This is good for two reasons; one it gets teenagers off cell phones and video games and provide teens with reading skills and two it raises awareness for comics! Comic books are one of the best ways to promote reading among young adults and it has been proven that comic's not only help building reading skills, but keeps young readers coming back for more!

Boom! Box offers tons of comic book titles for tweeners and shoppers can buy these comic books at White Dragon Comics!

Fans of Boom! Box comic books will also like Boom Studios Archaia Line of Comic Books!