DC Comics New 52 Event Comic Books - Sold Online at White Dragon Comics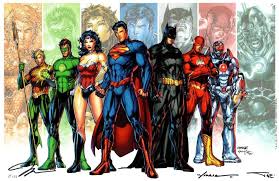 DC Comics has a long history of providing top quality comic books, but the weight of all that history can be daunting to new reader. DC Comics has tried different methods over the years to give new readers an easy entry-point. You can check out DC Comics, plus find the "New 52" Comic Books on sale, right now at White Dragon Comics! Online!

Finally, in 2011, DC Comics made the decision to re-launch their entire line of superhero comic books, releasing 52 new #1 issues in one month. And the New 52 Universe was created. You buy New 52 comic books online at White Dragon comics.

The launch of the New 52, made comic books easier than ever to get into. Now is the time to jump in the DC Universe! Find your favorite superhero, villain, metahuman, all-star team or any other alien character you have been wanting to read about now! Don't know where to start; or have been thinking to get into a new series at the ground level, now is the best time. Buy New 52 Comic Books at White Dragon Comics Online.

Regardless of the types of characters and comics you like best the new 52 has a huge selection of different superheroes, all-star teams, and villains to choose from. When you combine that with the other DC Comics and standalone titles, DC Comics has one of the largest selections of the best comic books to choose from, find great titles and powerful characters to follow in the DC Universe.

Find Your New 52 Comic for sale Online, Only at White Dragon Comics.