April 2020 Set The Comic Book World Afire! - Buy Comics from April 2020 Online at White Dragon Comics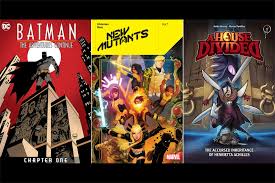 Shoppers, shopping for comic books know to shop at White Dragon Comics. We carry the latest hottest selling comic books. Here you will find comic books released in April 2020. DC Comics, Marvel, Image and many more are on sale now, online at White Dragon comics.

Whether it is Superheroes, Villains or Crime & Drama you will find it right here! Comic books for adults and children as well as teens are available for sale too! You can find comic books like Superman, Batman, The X-Men, Spider-Man and even the hilarious Spider-Ham are for sale (while supply's last). Red Sonja, Spawn and The Power Rangers are here as well!

White Dragon comics makes buying comic books online effortless! You will find comic books broken down into easy to navigate categories. Comic books released in April of 2020 are listed below. We sell comics from several different publishers, not just The Big Five. You will find publishers like Aftershock, AWA, Archie, Titan Comics and many more!

At White Dragon Comics you will find a pleasurable shopping experience! It is as if you were visiting your local comic bookstore when you are at White Dragon Comics! Find the latest comic books for sale from April 2020, just below.