Find Fun, Entertaing Family Friendly Comic Books from Archie Comics - For Sale Online at White Dragon Comics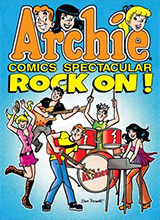 Archie Comics books the most successful, longest running comic book publisher in the industry, are sold online at White Dragon Comics! Archie Comics have sold over 2billion comics and are published in a dozen different foreign languages and distributed all over the world. And you buy Archie Comics Online at White Dragon comics!

Archie has spawned characters whose popularity has spilled over into other media outlets, which has made Archie and the gang a part of popular culture and a household name!

Did you know that Andy Hardy movies were an inspiration for the editor and co-publisher John Goldwater's "Archie Comic?" He wanted to create a comic that was about a relatable normal person. Thus, the birth of teenaged Archibald "Chick" Andrews.

Archie's debut started in Pep Comics #22 in December 1941. In a story by writer Vic Bloom and artist Bob Montana, Archie soon became MLJ Magazine's headliner, which led to the company changing its name to Archie Comic Publications.

Archie which started in the 1940s, has stayed with the times over the years, adjusting and updating characters. In fact, in 2010, introduced readers to one of the first openly gay characters, Kevin Keller. Changes also came in Life with Archie with the festive marriage of Archie and then months later with heartache of Archie's premature death.

Archie's comic book line also includes Betty and Veronica comic books, Jughead and Archie Comics Digest, Betty and Veronica Comic digest, and Kevin Keller comic books. You can buy these comic books online at White Dragon Comics, we strive to bring you the Best in Comic Books!