Pandemic, Pandemonium and Infections Have Hit The Comic Book Universe! Read All About It Here at White Dragon Comics
ON SALE 20% OFF
#Coolest Comic Books Sold on the Internet Today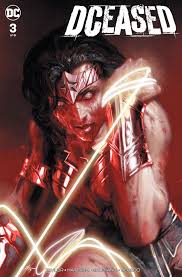 Sickness has hit the comic book universes! As we fight an invisible enemy so do our Superheroes! No one is immune, not the DC Universe, the Marvel Universe or Independent Publishers as they are all facing crisis brought about by an unseen force! Readers can find out all the latest info here at White Dragon Comics on The Featured Comic Books Page!

DC Universe is under a horrendous plague, something is turning citizens and heroes into dreadful human-hunting social-paths in "DCeased Comic Books"! A mysterious techno-virus has been released on Earth, infecting 600 million people and turning them instantly into violent, monstrous engines of destruction.

The heroes of the DCU are caught completely unprepared for a pandemic of this magnitude and struggle to save their loved ones first…but what happens to the World's Greatest Heroes if the world ends? Shoppers can find these horrendous comic books sold at White Dragon comics, just below.

The Marvel Universe is facing its own set of problems in Contagion. A strange substance is taking over heroes and citizens alike, draining them of their life force, stealing their knowledge and abilities, and neither science nor magic can stop it! Where did it come from? Can anything destroy it? And who will fall to its awful, overwhelming power? Find Out Today at White Dragon Comics!

Shoppers can purchase these terrifying comic books, plus many more unique tales from all sorts of publishers here at White Dragon comics. Don't be bored while you're stuck in Quarantine, Buy Some New Comic Books and see how other universes deal with their own Pandemics!