Comic Books Featuring Gotham City - Sold Online at White Dragon Comics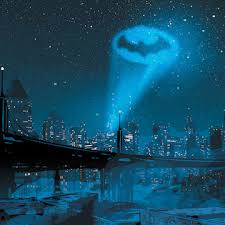 Gotham City, home to Batman, Joker, Harley Quinn and many more famous heroes and villains is probably the best-known fictional in the DC Universe. Home to some of the best super-heroes and villains you can read about, these comic books are available at White Dragon Comics Online, for sale.

The birth of Gotham is shrouded in mystery. It is said that an evil warlock was buried alive beneath what would one day be Gotham City. Legend has that the warlock lies in a state of inactivity, under Gotham, his evil essence seeps into the soil, poisoning the ground with his dark, corruptive touch.

Where there is evil there must be good to fight it! Boom! Super-heroes are born! Batman, Robin, Huntress, Batgirl and many more. These heroes are fun to read about, they have exhilarating adventures and the wickedest villains ever given birth to!

White Dragon Comics offers-up Gotham City's Heroes and villains in the best comic books written! You can buy comic books featuring Gotham City online at White Dragon Comics.

For more adventure follow Batman and Robin right here.