Zenescopes "Oz" Comic Books - Sold Online at White Dragon Comics!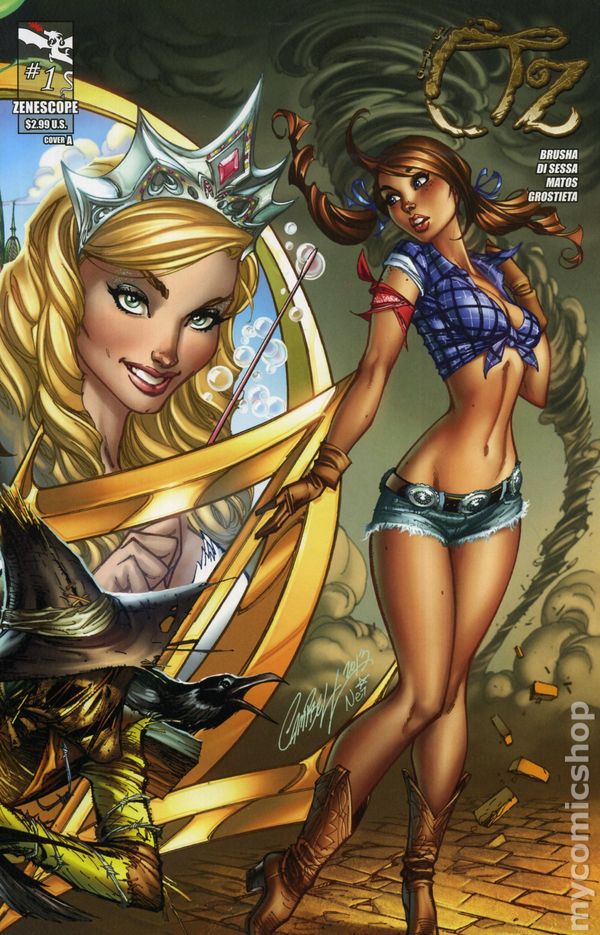 Zenescope Comics introduces you to the "Fourth Realm" of the Grimm Fairy Tale Universe in its new line of comics, "Oz". Zenescope's President and co-founder, Joe Brusha, will write this awesome All-New series. A New Retelling of the magical city known as, Oz. You can buy Zenescopes Oz comic books online at White Dragon Comics.

Zenescope Comics takes on the land of Oz, l retelling the classic folklore mixed with a blend of dark fantasy and lots action. The characters are recognizable, but cooler and more fantasy-based. The characters back-stories are also receiving a make-over, and their pasts will not be pleasant or fairy tale like as they were depicted in the Oz books.

Dorothy Gale and many of the other characters from The Wizard of Oz will receive a dark, edgy makeover and reimagining in Zenescope Entertainment's Oz. This new comic-book series will explore the fourth and final realm of power hinted at over the years in the company's long-running Grimm Fairy Tales title.

This modern take on the "Oz" story begins as the witches of Oz search for a lost weapon of power known as the Veridian Scepter. Their quest ultimately leads them to the unlikeliest of places the farmlands of Kansas and specifically to the home of a young woman named Dorothy Gale.

Comic book shoppers can find the "Oz" tales from Zenescope Comics here at White Dragon Comics, one of the leading sources for purchasing Zenescope Comics. Fans will find several issues in stock here. All comics are New Comics right off the store shelves!

Zenescope's writers have done an exceptional job writing the Oz comics and the artists bring to life the strange and horrifying world with each page, encompassing the reader. Shoppers will never look at fairytales the same way after reading these must-have comics!

Shoppers can find several issues of Oz comic books for sale here at White Dragon Comics. Don't hesitate any longer… read about Dorothy, Toto, the Lion and Scarecrow, along with all the other amazing characters in Oz.