The New 52 Comic Book's - Sold Online at White Dragon Comics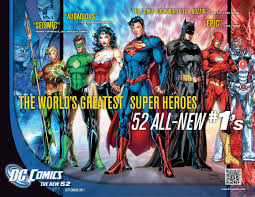 The New 52 was the biggest comic book events to spin out of the DC Universe. Rebooting and relaunching their entire line of superheroes and starting after "Flashpoint" allowed DC Comics to make several changes to their line of comics. You can read "New 52" when you buy your comic books online at White Dragon Comics! We have a great inventory of New 52 comic books for sale.

The New 52 was a "soft reboot" and while many characters underwent a reboot or revamp, much of the DC Universe's history remained intact. Major storylines were continued in the New 52 and others were lost in part or completely. War of the Green Lanterns, Batman: A Death in the Family and Batman: The Killing Joke were a few of the Powerhouses of The New 52 that you find for sale at White Dragon Comics.

DC Comics "New 52" revitalized the company and sales of comic books skyrocketed which put the comic book company at the top of the best-selling comics monthly. Powerhouses of The New 52 paved way for more exciting comic book superheroes to make a comeback and increasing the popularity of these characters and existing superheroes.

Searching for Powerhouses of The New 52 comic books still available for sale, check out White Dragon Comics we have many issues in stock! Buy your comic books today! And for more exciting adventures check out Gotham City! Only at White Dragon Comics!