Readers/Shoppers Get Twice the Chills with Anthology Horror Comic Books Sold at White Dragon Comics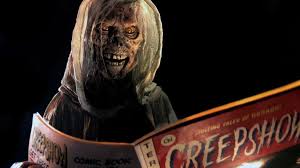 Who among us doesn't love a good horror comic book story, one that gets your blood racing and your heart beating like a drum? Horror comics can give readers a scare, but Anthology Horror Comic Books will terrify you, featuring multiple ghastly tales these comics are assured to get your blood pumping! Shoppers will find a large selection of spooky Horror Anthology comic books at White Dragon Comics.

White Dragon Comics loves a frighteningly fantastic read, that's why we stock a huge selection of Anthology Horror comic books. Each comic book provides readers with two or more terrifying tales that will leave you gasping! Horror comics have a way of capturing a reader's imagination and keep their interest till the bone-chilling end. Customers can find exciting Horror Anthologies available for sale just below.

Comic Book readers/shoppers will not be disappointed with the large selection of Anthology Horror Comic Books available from White Dragon Comics. If you have been searching far and wide to find the greatest Anthology Horror comic books, you have hit the jackpot!

White Dragon Comics encourages shoppers to have fun and look over all the great comic books we offer for sale. Besides Horror Anthologies, you find adventurous comics, superhero comics, mystery, science-fiction and much more. We offer low shipping rates, friendly service and state-of-the-art shippers, to protect your purchase! Don't hesitate… Buy your Comic Books Now.