Space Goat Publishing Brings Back Pop-Culture Cult Favorites Transforming them into Cool Comics! Get the Latest from Space Goat Right Here!


Space Goat Productions was founded in 2006 by Veteran comic book creator Shon C. Bury. Space Goat got its start by combing international studios and independent artists in order to create the industry's newest premier talent management agency and production studio, resulting in awesome comic book publishing, and shoppers can purcase those comic books at White Dragon Comics.
Shon Bury is joined by long time comic book greats Dave Olbrich, Tom Mason, Dave Land and Taylor Smith. Olbrich, Mason and Land have worked in the comic book industry for years, while Taylor Smith has only had three years in the industry, but has proved his self to be an extremely capable and thorough individual!
Current comic books being published by Space Goat Productions include cult-favorite Ashley James "Williams" aka "Ash" star of the Evil Dead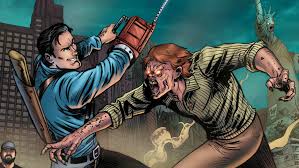 comic book series. And coming soon an all-new mini-series The Howling. The Howling is a new horror comic book based off the popular cult-flick of the same name and will be published as a four-part mini-series. Many of these fun comic books can be purchased at White Dragon Comics.
While Space Goat Productions have not released many comic books, what they have released is awesome reading material. Space Goat has several new comic books in the works and will be releasing many new titles in 2017.
White Dragon Comics sells the latest comic books from Space Goat Production. Fans and readers can purchase Space
Goat comic books right here at the number one internet based comic book store White Dragon Comics.