Martial Arts Comic Books Hand-To-Hand Combat, the Mysteriousness of Ninjas and Samurais Can be Found in Martial Art Comic Books For Sale at White Dragon Comics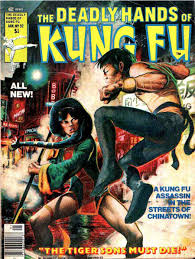 The term Martial Arts can most easily be defined as any fighting system designed for close personal combat. Martial Arts is a broad term that encompasses many schools of training and styles of fighting from Eastern Karate and Kung Fu, to Western Boxing and Savate. And, the Martial Arts make for the best entertainment in Pop Culture, namely comic books. Comic Books featuring the Martial Arts just happen to be White Dragon Comics fastest selling comic books on the internet!

Any number of early pulp and comic book heroes, be they action heroes like the Shadow or Mandrake the Magician or super heroes like Batman, employed various forms of martial arts in their fights with various villains and criminals. But it wasn't until the Kung Fu "craze" in the early seventies, spurred on by movies like Enter the Dragon and television shows like Kung Fu, that martial arts became a subject of interest to American comic book creators and fans.
Due to the success of the Martial Arts genre, comic book publishers began developing martial arts characters for comic books. DC Comics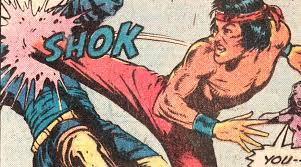 launched comic book Richard Dragon, Kung Fu Fighter, which introduced Tiger and Lady Shiva (mainstays in DC Comics Martial Arts Genre). Even, DC Comics Iconic Heroes like Wonder Woman began to display martial arts in their comic books. Shoppers can read these fun comic books here at White Dragon Comics, we carry an extensive selection of comics themed in the Martial Arts category.
Martial arts comic books continue to thrive today in titles like Iron Fist, Katana, Teenage Mutant Ninja Turtles and more. Martial Art's themed comic book shoppers can find the most exciting adventures for sale right here!