Things That Go Bump in the Night, Monsters, Ruthless Villains! Thier all Sold - Boom Studios "Horror Comic Books" Sold at White Dragon Comics!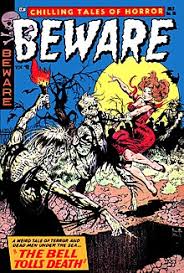 When you are looking to buy horror comic books, Boom Studios publishes the scariest! Shoppers you can buy the craziest, most insane, demented heart-pounding comics here at White Dragon Comics! Boom Studios and their esteemed writers present comic book readers horror stories so frightening that it will literally make their hair curl! - Comic books available for sale - just below

Archenemies, driven heroes, reapers, monsters and ruthless villain are just a few of the dastardly characters that can be found in comics from Boom's "Horror" comic books section. If you enjoy reading ominous tales, dark noirs and eerie adventures then you have the jackpot!

White Dragon comics stocks the largest inventories of Boom Studios published "horror" genre related comic books. You buy the latest from Boom!Studios right Now! Right Here!

Horror comic fans, horror readers and fans of Boom Studios will find the latest comics and several back-issue comics for sale here at White Dragon Comics. Order Today and take advantage of our low shipping rates! Plus, all comics are shipped in t-folders to prevent damage to your comics!