DC Universe "Younge" Teams Comic Books Are Full of Good Fun - Buy Them at White Dragon Comics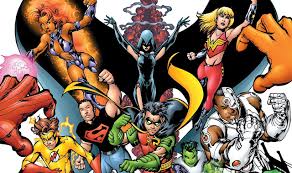 DC Comic's Rebirth Event brings fans All-New Comic Book Adventures starring superhero-teenagers! Yep, shoppers here you will find "Young Teams", teams comprised of our younger heroes joining to fight the dastardly villains of the DC Universe!

White Dragon Comics brings these comic books together in one place for your shopping pleasure! Shoppers can find a large line of "Young Teams" featured in comics and available for sale at White Dragon Comics.

Teen Titans fans and Super Sons fans get your comic book fix here at White Dragon Comics! These All-New Comics will take you on adventures like no other! Readers will experience feelings of hope, joy and inspiration with Young Teams of the DC Universe! Their can-do attitude will motivate you! Buy fantastic Young Team comics at White Dragon Comics, just below!