Zenescope Comics brings Comic Book and Fairy Tale Fans Together with All-New Twisted Tales from Everyone's Favorite Childhood Fairy Tales. Robyn Hood, Cinderella, Ariel and Many More are Written with New Terrifying Stories That are Sure To Leave You Shaking and Yearning for the next cliamatic Fairy Tale.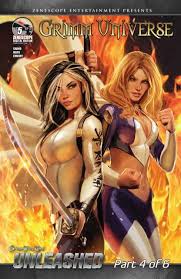 Zenescope Comics takes readers on a wild ride through everyone's favorite fairy tales. The Grimm Universe is a new twisted and sometimes terrifying spin on classic fairy tales like Cinderella, Snow White, Alice in Wonderland and many more.
Zenescope Comics co-founded by Joe Brusha and Ralph Tedesco in 2005 continuously evolve the Grimm Universe and favorite heroines with each monthly comic issue. For instance, Alice Little (Alice in Wonderland) is no longer a child, but a grown, very sexy woman or The Little Mermaid whom is not so little anymore, or as innocent.

Zenescope's comic book, Alice in Wonderland has our herione trapped in the insanity of Wonderland. The Queen of Heats wants her head, literaly while the Mad Hatter is hunting Alice through the all-new freaky Wonderland, for his own sinister reasons. This comic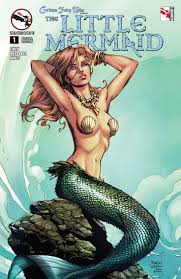 book will give readers a brand new look at Wonderland, one unlike any fans have seen before.

If mermaids are your thing, Zenescope Comic Books have you covered. The Little Mermaid comic book is completely reimagined in writer Meredith Finch's new take on the Disney favorite, but be warned this tale is not for children.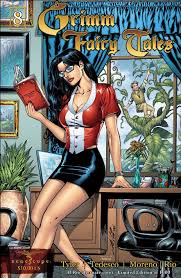 The flagship for the Grimm Universe, Grimm Fairy Tales is one of the best selling comic books for Zenescope. Grimm Fairy Tales gives reader two stories monthly a frame story and a fairy tale.


The frame story revolves around Dr. Sela Mathers, a Doctor/Professor of Literature who has been given the ability to help people by showing them fairy tales that contain a lesson about their life. Struggling with the fact that people ignore her advice and end up ruining their lives anyway, Sela begins to use her abilities to dispense justice instead. The second story in this awesome comic book is a new twisted version of a classic fairy tale that usually ends in misery warning readers of the comic book to change their lives or suffer a similar and sometimes, worse fate.

*Update: Grimm Fairy Tales comic books now have Selas daughter, Skye in charge. With barely time to mourn, Skye is pushed into her mother's place.
This is just a few of the twisted tales from Zenescope Comics, fans can find many more right here at White Dragon Comics, your number one source for buying comic books online.