Zenescope Comics Sold Online @ White Dragon Comics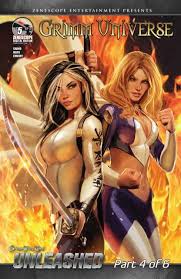 Zenescope Comics brings Comic Book and Fairy Tales Together with All-New Twisted Tales! Robyn Hood, Cinderella, Ariel and Many More are Written with New Terrifying Stories That are Sure To Leave You Shaking and Yearning for the next Exciting Adventure.
Zenescope Comics takes readers on a wild ride through your favorite fairy tales, for example "The Grimm Universe" is a twisted and often terrifying place where classic fairy tales like Cinderella, Snow White, Alice in Wonderland and more are take a sinister turn! Don't fret... the sexy heroines of these folklore always save the day, or do they? You can buy these tales online at White Dragon Comics.

Zenescope Entertainment takes fantastical characters from childhood stories and takes them in an all new direction. Zenescope's writers feature various heroines modified into Strong Woman, who do not backdown from a battle! Alice Liddle, Cinderella, Robyn Hood, The Mad-Hatter and so many more fabulous "Grimm Universe" characters have taken on new personalities, are fully grown and strong-willed, join them in all-new action-packed comic book adventures with some sweet twist and turns! Buy your Zenescope Comic Book "Today Online" and enjoy some of the best-folklore revisited and written in one-of-a-kind new stories!

Zenescope Comics are on sale online now at White Dragon Comics. Order today and get great "Grimm Universe" comic books delivered to your mailbox.