Swamp Thing Comics Combine Horror and Superheroes in One Comic Book - Buy Swamp Thing Comic Book at White Dragon Comics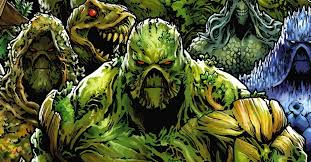 Swamp thing is the most overlooked superhero that graces the shelves of comic bookstores! This part human and part plant, Swamp Thing is the most unusual hero in the comic book world today. Swamp Thing comic books are some of the best stories available in comic books! You can buy Swamp Thing comic books online at White Dragon Comics.

Botanist Alec Holland became the avatar of the Green, known as the Swamp Thing, following his death in a swamp as a result of a horrific accident. With the ability to control any form of plant life, Swamp Thing uses his powers to protect both the human and the plant worlds. You can read Swamp Thing's electrifying adventures at White Dragon Comics. White Dragon Comics sells only New Uncirculated comic books online.

Swamp Thing has been a popular character of DC Comics for years and will continue to delight fans for years to come. If you have not read Swamp Thing comic books, White Dragon Comics highly suggest that you do. Fans, you will not be dissatisfied with DC comics, Swamp Thing. White Dragon comics is proud to offer a large selection of Swamp Thing comic books for your buying pleasure. Buy your copy of Swamp Thing today online at White Dragon Comics!