Creator Owned Heroes # 7 (Image Comics 2012)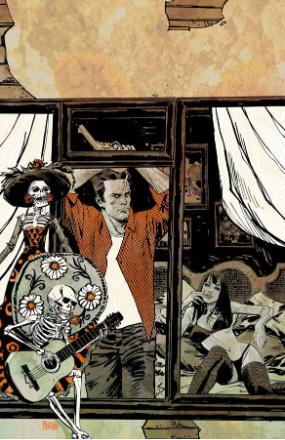 Special Extra Pages Issue.
A brand new story by Steve Niles and Scott Morse, and more madness from Darwyn Cooke.
Kill Switch, Part Three.
Locked in a Peruvian Prison, Kill Switch awaits a Mexican hit squad as he tries to discover who put a bounty on his head and why.
The bullets fly as our hero is led into a deadly game of death against the world's best and most eccentric assassins, but the gloves come off when they threaten his family.

Meatbag, Part One.
Detective Paul DeSanto works the seedy side of Los Angeles.
He specializes in cheaters and losers, but he never chooses sides.
In Hollywood cheats and loses work both sides of the street.
After one of his operatives is eviscerated in an alleyway, DeSanto discovers the strange side of seedy.
Plus: Leaping Tall Buildings: Independent Spirits a profile feature by Christopher Irving and Seth Kushner spotlighting Evan Dorkin.

Creator Owned Heroes # 7 is written by Steve Niles and others with art by Darwyn Cooke and others

Creator Owned Heroes # 7 is a 56 page comic book in full color and rated M.

Recently Viewed Comics
Note:
All prices in US Dollars