A1 Annual GN (Titan Comics 2013)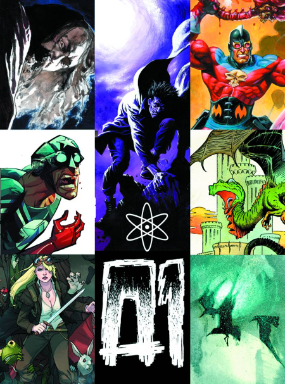 A1 has been a laboratory for creators to experiment and innovate.
Already proving a success with the new monthly comic, this first all-new A1 Annual marks the thrilling return of the award-winning graphic anthology series to bookshelves everywhere.

A1 Annual is Loaded with Talented Creators:

Jack Kirby, Joe Simon, Alan Moore, Jim Steranko, Kevin Eastman, Simon Bisley, James Robinson, D'israeli, Michael T. Gilbert, Sandy Plunkett, Dave Elliott, Toby Cypress, Sakti Yuwono, Barnaby Bagenda, Jessica Kohline, Dominic Regan, Rian Hughes, Bill Sienkiewicz, Scott Hampton, Madeleine Holly-Rosing, Emily Hu, Bambos Georgiou, Norman Felchle & Coffee Labs Present 16 Original Works.

The gorgeous contents include a previously unpublished tale by Simon and Kirby, a new Mr. Monster tale, a new Melting Pot piece, a new Grendel story, and a Weirding Willows adventure.
This sturdy hardcover graphic collection is available with your choice of two covers.

The A1 2013 Annual is a 176 page comic book in full color.

Recently Viewed Comics
Note:
All prices in US Dollars