Archer and Armstrong # 5 (Valiant Comics 2012)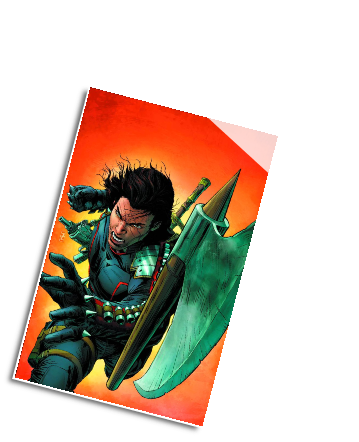 All-New Arc.
Not even time itself can escape the Eternal Warrior.
No one in the Valiant Universe is more terrifying, more dangerous or more experienced in the art of war than the undying Eternal Warrior.
After thousands of years on the battlefield, he's a master of strategy and weaponry, an unrelenting force of nature capable of dismantling entire armies with little effort and less conscience.
His brother Armstrong, on the other hand, likes to read poetry and drink beer. Maybe that's why they had such a bad falling out?
But now after years apart the Eternal Warrior has a new mission: destroy young Obadiah Archer, Armstrong's best-est new buddy and teammate in the war against The Sect.
And, like it or not, Valiant's history-smashing adventure duo is about to feel the wrath of the Eternal Warrior's fist and steel.
Archer and Armstrong # 5 is written by Fred Van Lente with art by Emanuela Lupacchino and a cover by Doug Braithwaite, Emanuela Lupacchino and Patrick Zircher.
Archer and Armstrong # 5 is a 32 page comic book in full color and rated T+.

Recently Viewed Comics
Note:
All prices in US Dollars