Bad Kitty One-Shot (Dynamite Comics 2014)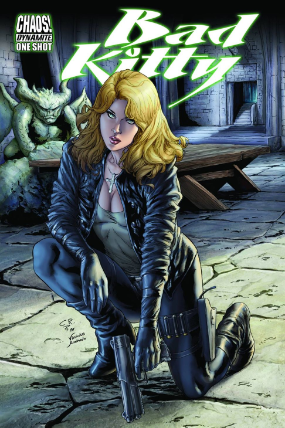 Before Det. Katherine Bell became a dedicated officer of the law, she was a young, troubled girl with a dangerous coping mechanism in the form of her alternative, psychopathic personality, Kitty.
As an adult, Katherine had managed to bury her dangerous alter ego deep inside her mind while she pursed the enigmatic drug-lord known only as Domiko.

Few people have ever seen Domiko in person and his vast network of criminal operations have made him impossible to locate until Katherine finally has a lead which puts her in harm's way.
After a near-fatal attempt on her life, Katherine's mind is opened and Kitty is back.
Katherine and Kitty now face a battle of the mind as each personality struggles to take control.
Katherine strives to uphold her duty as an officer while Kitty has her own grudge to settle and Kitty's never let morality or the law get in her way of getting what she wants.

Bad Kitty One-shot is written by J.C. Spence with art and a cover by Carlos Rafael.

Bad Kitty One-shot is a 40 page comic book in full color.

Recently Viewed Comics
Note:
All prices in US Dollars