Coming of Rage # 1 (Liquid Comics 2015)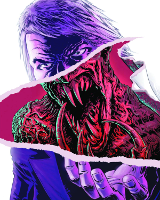 From horror icon Wes Craven, director of Scream and Nightmare On Elm Street comes his first comic book series.
Wes Craven writes the series with Steve Niles, bringing two horror masters together for the first time. From Craven, "About a year ago I had the beginning of an unwritten joke come into my head: A Vampire, a Werewolf and a Zombie walk into a bar... Just that.

My imagination went crazy thinking about what could happen when three such impossibly different characters were thrown together.
I met with comic book legend Steve Niles. We hit it off, and decided to work out the story of a very special young man's coming of age, and the two unlikely friends who helped him to survive it. After a bit of hard, fun work, a series of comic books were born, telling the story of how these three ended up on the run together, and how the central character, Ritchie, lost his innocence and became one of the most powerful vampires in the world."

Coming of Rage # 1 is written by Wes Craven and Steve Niles with art and cover by Francesco Biagini.

Coming of Rage # 1 is a 24 page comic book drawn in full color, published by Liquid Comics, rated M and sold online at White Dragon Comics.

Recently Viewed Comics
Note:
All prices in US Dollars