Epochalypse # 1 (Legendary Comics 2014)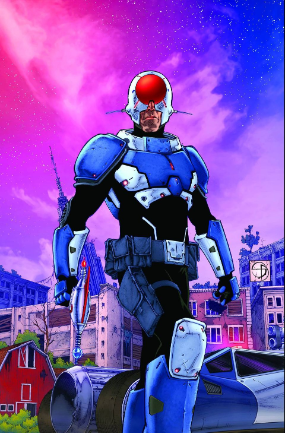 Legendary Comics turns history on its head with the sci-fi adventure Epochalypse, a mind-bending new series from historical author Jonathan Hennessey and acclaimed artist Shane Davis.
When a mysterious space-time phenomenon causes 600 years of human history to collapse into a single era, societies from the past, present, and future are forced to coexist in a dystopian civilization.
To set the timeline straight, an elite team of Resynchronization Officers must rid the world of Anachronisms futuristic artifacts that threaten the very laws of time.
To ensure our future, we must undo it. As one defiant officer leads the manhunt for elusive scientist Dr. Tomorrow and notorious outlaw The Salesman, he is challenged by shadowy agencies, rebel militias, and forbidden desire.
Can our hero save history or doom the future?

Epochalypse # 1 is written by Jonathan Hennessey with art and a cover by Shane Davis.

Epochalypse # 1 is a 32 page comic book drawn in full color, published by Legendary Comics, rated T and sold online at White Dragon Comics.
Recently Viewed Comics
Note:
All prices in US Dollars