Idolized # 2 (Aspen Comics 2012)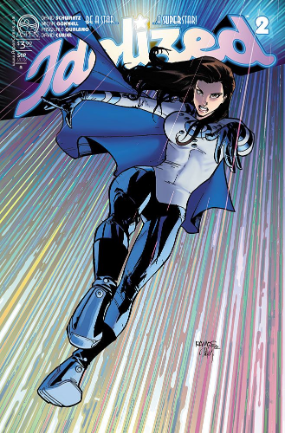 Aspen Comics proudly presents their first ever super-hero series, Idolized.
What would a real world filled with superheroes look like?
In this all-new series it gets ugly, as a young, girl-next-door reveals her tortured past and her desperate attempt for revenge, all while auditioning in front of the cameras and judges of the hot new TV show Super Hero Idol.
The Idolized competition heats up in this second issue, as Joule tears through her competitors on a frenzied quest to make it into the Top 10.
And, see what happens when she comes face-to-face and goes toe-to-toe with the man who destroyed her life.
Written and created by David Schwartz, with gorgeous art by Micah Gunnell, Pasquale Qualano and David Curiel, and featuring a cover by superstar Humberto Ramos, and a photo cover variant starring Supermodel Rachel Clark, you won't want to miss out on this innovative new series only from Aspen Comics.

Idolized # 2 is written by David Schwartz with art by Micah Gunnell and Pasquale Qualano and a cover art by Humberto Ramos and Rachel Clark.

Idolized # 2 is a 32 page comic book in full color.

Recently Viewed Comics
Note:
All prices in US Dollars