Imperium # 13 (Valiant Comics 2015)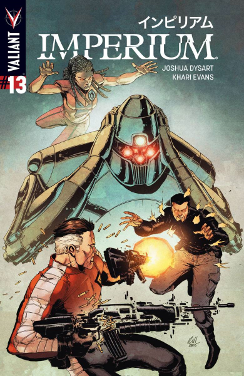 The world's most powerful team of mercenaries is on the defensive as an elite international kill squad led by Livewire and H.A.R.D. Corp's Major Charlie Palmer descends to destroy Imperium's stronghold!
Toyo Harada will save the world if he doesn't doom it first.
The revolutionary disruption that Harada and his team have launched by deposing tyrants, housing refugees, and feeding the poor has come at the expense of the world's wealthiest nations.
When the planet's leaders have had enough, it will be decided Toyo Harada must die.
Now a crack unit of operatives will stand against Harada on the global stage with his own former pupil Livewire taking him
head-on.
Meanwhile, Harada's military lieutenant Gravedog meets his match when Palmer drops into the firefight of a lifetime H.A.R.D.
Corps vs. H.A.R.D. Corps!

Imperium # 13 is written by Joshua Dysart with art by Khari Evans and a cover drawn by Robert Gill.

Imperium # 13 is a 32 page comic book in full color and rated T+.

Recently Viewed Comics
Note:
All prices in US Dollars