Multiversity # 2 (DC Comics 2015)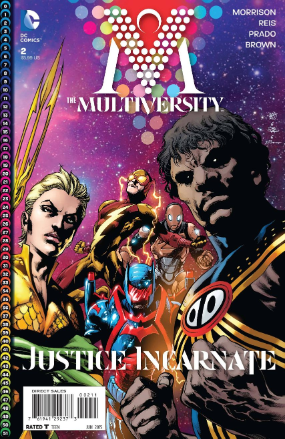 Every event in the history of the DC Universe has been leading to this.
The final chapter of the greatest adventure of all time is here.
Issue #1 artist Ivan Reis reteams with mastermind Grant Morrison to end The Multiversity and bring together the greatest and bravest heroes of the DC Multiverse to fight one last battle.
But more than just some cabal of super-villains, they face the greatest evil that ever existed.
An evil so massive, they actually may not stand a chance!
Who are the mystic Justice League of Earth-13 and what role does their leader Super Demon play in the crisis rising all around them?
What shocking secret motivates the dark, nightmare henchmen known as The Gentry?
And what is the final fate of Nix Uotan the Super-God?
You cannot miss this final, stunning chapter of Grant Morrison's ultimate super hero epic.

Multiversity # 2 is written by Grant Morrison with art by Ivan Reis and others and a cover by Ivan Reis and Joe Prado.

Mutiversity # 2 is a 56 page comic book in full color.

Recently Viewed Comics
Note:
All prices in US Dollars