Multiversity Guidebook # 1 first print (DC Comics 2014)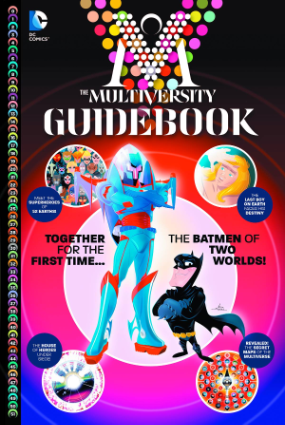 The guidebook to the greatest adventure in DC's history is here!
With a detailed concordance featuring each of the 52 worlds in the Multiverse, a complete history of DC Comics' universe-shattering Crisis events, a map of all known existence, and an action-packed dual adventure starring Kamandi of Earth-51 alongside the post-apocalyptic Atomic Knight Batman of Earth-17 and chibi Batman of Earth-42, this 80-page mountain of Multiversity madness cannot be missed.
The Multiversity Guidebook contains everything you ever wanted to know about DC's parallel worlds and their super-heroic inhabitants.
Meet the Agents of W.O.N.D.E.R. The Light Brigade, the Super-Americans and the Love Syndicate! Meet the Accelerated Man, Aquaflash, BiOmac and more.
Overflowing with today's top artists and completely written by Grant Morrison himself, readers of the DC Universe can't afford to pass up this oversized, sixth chapter of Multiversity.

Multiversity Guidebook # 1 is written by Grant Morrison with art by Marcus To and Paulo Siqueira and a cover by Rian Hughes.

Mutiversity Guidebook # 1 is a 80 page comic book in full color.

Recently Viewed Comics
Note:
All prices in US Dollars