Suiciders # 1 (Vertigo Comics 2014)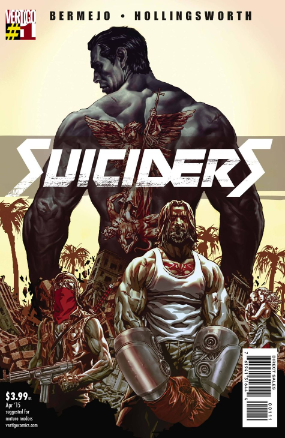 In the post-apocalyptic city of New Angeles, killing isn't just a crime it's entertainment.
When the big one finally hit the West Coast, Los Angeles was left in ruins.
And when the U.S. government decided to cut the city loose, things went from bad to worse.
To survive, L.A. did what it does best: It turned survival into entertainment.
Now, thirty years later, the city of New Angeles is thriving once more thanks to the blood sport known as Suicders a TV series that combines the spectacle of hand-to-hand combat with elaborate, high-tech obstacles that test each competitor's ability to survive.
But these competitors have an edge, they've been freakishly enhanced by drugs and technology.
The results are both marvelous and monstrous, as the man called The Saint begins to rise above his fellow Suiciders.
Suicders is a dark, post-apocalyptic epic that tells the story of a strange, brutal world.

Suiciders # 1 is written and drawn by Lee Bermejo.

Suicders # 1 is a 32 page comic book in full color and rated M.

Recently Viewed Comics
Note:
All prices in US Dollars