Unbeatable Squirrel Girl, volume 2 # 25 (Marvel Comics 2016)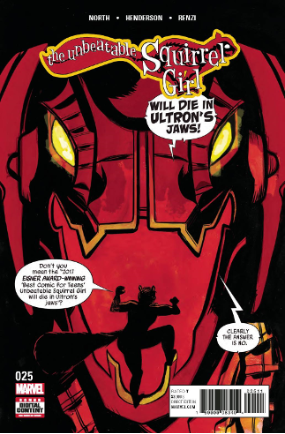 This is it!
The climactic showdown between Squirrel Girl, a woman who can talk to squirrels, and Ultron himself, a killer robot who has ruthlessly defeated the Avengers on multiple occasions!
And you may be thinking, Holy crap I'm sold, but let me tell you more, this entire battle takes place in the Savage Land, in an area filled with dinosaurs!
And now you may be thinking, I'm so sold, good grief, just let me read this comic already, but hold on some more, because there's one more thing we need to tell you, Ultron is a Tyrannosaurus Rex now.
It's Doreen Green versus dinosaur robot Ultron, and Kraven the Hunter is there, too.
Kraven is not a dinosaur, though.
Man, we really should've made Kraven a dinosaur, too.
Lesson learned for next time, I guess.

Unbeatable Squirrel Girl # 25 is written by Ryan North with art and a cover by Erica Henderson.

Unbeatable Squirrel Girl # 25 is 32 page comic book drawn in full color and rated T.

Recently Viewed Comics
Note:
All prices in US Dollars